We thank you for your participation in this annual event. It was a great success and well attended, even with the snow! The keynote speaker audience was overflowing, and we want to thank Frank O'Brien for a fascinating look at the future plans for the adventure of Curiosity on Planet Mars. We also want to thank all of our volunteers for making this event go so well. Fun was had by all!
We are pleased to announce that we will be doing this again! Please set aside the date: March 15, 2014 – hopefully minus the snow.
Location: The College of New Jersey in Ewing
Date: Saturday, March 15th, 2014 – 9:00am until 5:00pm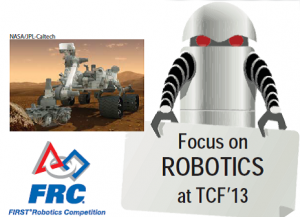 TCF 2014 will again be a one-day Festival, with compelling talks, presentations and flea market. We will use the success of the 2013 event to shape the focus of next year's show. In the high technology area, one year can mean very dramatic changes in both hardware and software. It is not easy to keep up with it all – and that is exactly why we need to have these yearly get-togethers.
Computers and the Internet are continuing to evolve at a rapid pace. We can help you sort it all out. Smartphone? Tablet? Desktop? We will have talks and demonstrations by experts in all of these fields to help get you up to speed, and it's still only $10 (free admission for children under 12) for a full day of talks and events.
---
Please check back with this site over the next few months as we shape the focus of next year's event. We promise to make it the best year yet and to help keep you aware of what is now possible . One Terabyte Thumb drives? 8 Terrabyte SSD drives (for tablets, of course). The entire season of Game of Thrones on one disk? iPhone8? iGlasses?
---
We have received from Richard Albe a You Tube link to a video that he made during the Trenton Computer Festival, complete with background music. Have a look: TCF YouTube Video
---
David McRitchies has given us a link to some raw photographs taken at TCF. View them here: www.acgnj.org/tcf/2013