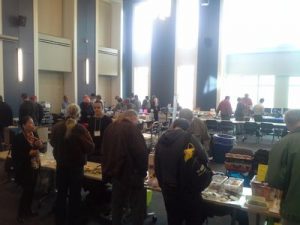 Dear TCF Vendor,
TCF2018 is shaping up to be another exciting year for TCF!  Special this year is a full-day forum on wearable technology, in addition to our many other popular tracks.
We are now accepting applications for vendor tables.  TCF2018 is on Saturday, March 17th and will be again located in TCNJ's Education Building.  Setup will begin at 7:30 am, general admission to the Education Building and selling to public will start at 9 am and end at 5 pm.
All vendors will be housed indoors in a single large room.
The price of a vendor space (includes 1 admission, 1 table and 1 chair) is $30 in advance and $40 at the door (if space is still available).  Additional tables without an additional vendor admission will be $25 in advance and $35 at the door.  An electrical connection is an additional $12 in advance and $15 at the door. (Electrical access is not available at all spaces.  Bring your own extension cords.)
You can reserve vendor spaces at: https://www.eventbrite.com/e/tcf-43-tickets-37446815433#tickets .
Finally, please help us to publicize TCF, and keep it growing!
If you have any questions, please contact me.