"Hacking and Computer Security"
Emmanuel Goldstein (emmanuel@2600.com) has been publishing 2600 Magazine, The Hacker Quarterly since 1984. He traces his hacker roots to his college days at SUNY Stony Brook in the late seventies. He led the movement to free famed hacker Kevin Mitnick from prison and stop a film that portrayed him in an inaccurate light. He recently completed a film of his own ("Freedom Downtime"), a documentary that focuses on stopping the other film ("Takedown"), the Free Kevin movement, and the hacker world. Last year, Goldstein was sued by the Motion Picture Association of America for printing source code on the www.2600.com website that enabled DVDs to be controlled by their owners. The case is currently being appealed. He also hosts America's largest (if not only) hacker radio show, which airs on New York City's WBAI 99.5 FM every Tuesday at 8 pm.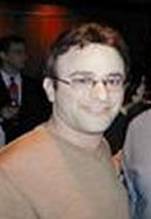 Ari Kaplan"How Wireless Will Revolutionize Lives"
Ari Kaplan attended his first TCF at age 6 and was a speaker at the age of 13. He is now a world-renowned book author and has served as a database administrator for Oracle Corporation and other Fortune 500 companies. Mr. Kaplan was Co-Founder and CEO of Expand Beyond, a pioneer and leader in the wireless enterprise software industry, and was awarded the prestigious Caltech Alumni of the Decade.

Marge and Bruce Brown"Wireless Networking, Realities and Promises"
Marge and Bruce have tested, evaluated, and written about literally 100s of networking products, including all current wireless and wired networking technologies. They performed and wrote the first published in-depth 802.11a wireless network performance tests for PC Magazine and Extremetech.com. The Browns have done extensive wireless interoperability and hybrid network technology testing, including the effectiveness of combining multiple wireless technologies. Bruce and Marge have also written many shorter tutorials involving installing and using wireless networks.