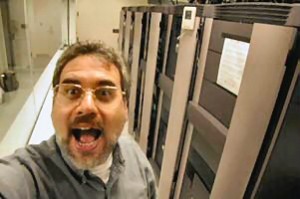 We were also able to obtain Aram Friedman as a featured speaker this year. Aram was Director of Engineering of the Hayden Planetarium from 1998 through 2002. He has been involved with film, video, computer graphics, and special effects industries.
During TCF he demonstrated a software based planetarium that he's developed. His demonstration included an eye opening presentation on the birth of the universe. For more information about Aram, Click Here
We noticed that Aram's presentation was so well attended that he hardly had time for a bathroom break! Our view of the Universe will never be the same! Thank you Aram!